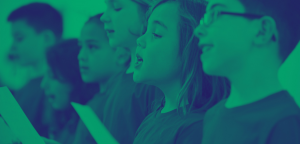 Date and time

Thu 24 November 2022 | 6:30 pm - 9:00 pm
Fri 25 November 2022 | 6:30 pm - 9:00 pm

Venue
Exeter Cathedral, Exeter EX1 1HS
Booking link
forms.gle/8SQzaiub9Q532ShN8
This Teachers Rock® initiative will provide an opportunity for young people and their teachers to participate in a massed singing event in the magnificent Exeter Cathedral. Schools will be sent a digital learning pack containing everything they require to prepare and learn three new vocal arrangements to perform as part of a massed choir on the night. Schools will also have the opportunity to participate in a contemporary vocal workshop of the songs with Teachers Rock® founder, Debbie Kent, prior to the performance. Young people will then perform as a massed Teachers Rock® Youth Choir alongside other Schools as well as have the opportunity to perform an individual song of their choice on the night.
Book Now