Chorister Outreach Programme
The Chorister Outreach Programme is designed to encourage and enable Cathedrals to use their musical resources to promote singing among Key Stage 2 children. In Devon & Torbay, this initiative is run as a collaboration between Exeter Cathedral and Devon & Torbay Music Education Hubs and forms a key part of our singing strategy. Open to all Devon & Torbay maintained primary schools and academies on a fully subsidised basis thanks to funding and in-kind support from Exeter Cathedral and the Hub, it's delivered in a different geographical area each term.
As well as advice and support for staff, each school receives three workshops with a skilled vocal practitioner. Choristers from Exeter Cathedral join one of these sessions to inspire the children and talk about life as a chorister. The Chorister Outreach Programme usually culminates in a large scale Saturday afternoon performance at Exeter Cathedral to celebrate the musical achievements of all children involved.
During 2023-24 the Chorister Outreach Programme will work with schools in Torbay (autumn), Exeter (spring) and South Hams (summer).
Musician in Residence Programme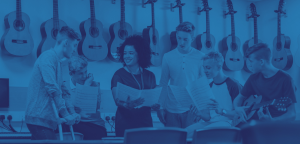 Our Musician in Residence Programme involves working with an experienced musician and music educator to design and deliver a bespoke project that meets the needs of children and young people at your school. This initiative is delivered over five creative music workshops, which can be offered intensively over a week, over five consecutive weeks or at less frequent intervals depending on your needs.
While the structure and approach taken in each school can vary dramatically, the aim is always to inspire young people to engage meaningfully with music. A really important aspect of this initiative is the CPD legacy for your school, enabling colleagues to develop their skills and confidence by working directly with the Musician in Residence throughout the project. While this initiative is subsidised, a school contribution of £500 applies. Contact your local Music Development Lead to find out more.